July 2, 2015
Lost Penny Encore Screening
Press Release
Award-winning movie, 'Lost Penny', to have Encore Screening in Niagara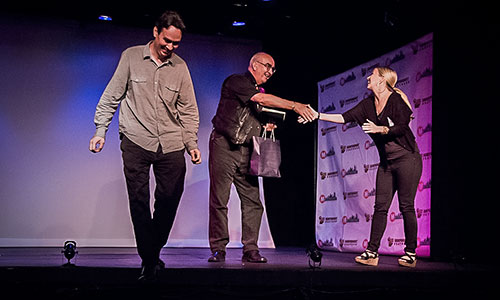 NIAGARA FALLS, ON (July 2, 2015) -- The newest feature film from CubeCity, 'Lost Penny', received an award at the recent Manhattan Film Festival. Filmed in Niagara, 'Lost Penny' was also screened to a Sold Out crowd at the Niagara Integrated Film Festival in June. Because so many people could not get tickets, the filmmakers have set up an Encore Screening on Tuesday, July 7th at the Seneca Queen Theatre in downtown Niagara Falls.
'Lost Penny' is an Alice-in-Wonderland type story. Penny is dissatisfied at home with an over-bearing mother. She follows a trail to a mysterious box with the words "Open Me" scrawled on top. She opens the box and finds herself plunged into an upside-down world of smoke and mirrors... that conceals a dark secret.
Shot exclusively in the Niagara Region, principal photography for 'Lost Penny' was completed in two and a half weeks in August 2014. The filmmakers spread their casting net in Niagara and Toronto, and even as far as New York City and Australia. They cast Rachael McOwen in the role of Penny. McOwen is one of the Top Women with lines & face time (Emma Stone & Sally Field included) in the 2014 summer blockbuster: 'The Amazing Spider-Man 2'.
The cast also features local Niagara actors, including: Tia Blake as the Red Dancer, William G. Hobbs as the Pirate, Robert Tanos as the Enforcer, Julianne Piacenti as Thistle, Shannon Murtagh as Thorn, and Thomas Nelson as the Barefoot Man. The Under-World Club that Penny finds herself in was shot primarily at Broadway Lights Dance Studio, which was once the location of the Hideaway Club.
Join the filmmakers, cast, and crew and come out and see the movie on Tuesday, July 7, 2015 at 7:00 pm. Seneca Queen Theatre, 4624 Queen Street in downtown Niagara Falls. Advance general admission tickets are $10. Tickets at the door are $15. For more info, or to watch the movie trailer, go to: http://www.cubecity.org
-- END --
For more information...
» Lost Penny at the Manhattan Film Festival
» Lost Penny at the Niagara Integrated Film Festival
» Watch the movie trailer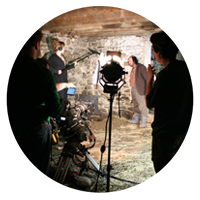 Blog Archives
To read our posts from 2008-2017,
check out A Moon Brothers Film blog