July 8, 2013
Lazer Us Wins Award
Press Release
The Legend of Jimi Lazer wins award at Manhattan Film Festival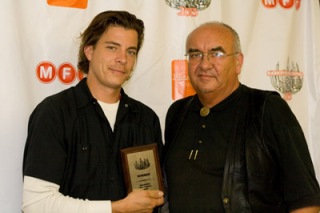 NEW YORK, NY (July 8, 2013) -- 'The Legend of Jimi Lazer', the Moon Brothers' most recent feature film, just won "Best Film: Adventure Category" playing to a packed house at the Manhattan Film Festival.
The film opens with soon-to-be superstar, Jimi Lazer, making "a deal with the devil"; he asks to become famous beyond his wildest dreams. As the story unfolds, his ex-manager, Freedom, leads Jimi Lazer in a quest to find the magic guitar before the bad guys do. They cross paths with a mysterious woman in red stiletto heels, a midnight "stroller man", and ultimately the evil Guitar Hunter and his cronies.
Shot in Niagara Falls, principal photography for this project was completed in two weeks in April/May 2012. With its premiere at the Manhattan Film Festival, and the festival award win, producer Roberto Munoz and his filmmaking team are excited about the possibilities. "The audience was blown away," says Munoz. "This film is destined to become a cult classic. One viewer commented that you never knew what was going to happen next, but by the climax, every loose end was tied up."
'The Legend of Jimi Lazer' was filmed on the RED Camera. It merges elements of the graphic novel medium with the buddy-genre of film. Says Munoz, "While the story is fiction, it's actually based on my background as a concert promoter in the 1980s and 90s."
The movie features Robbie Beniuk in the role of Jimi Lazer; Patrick J. Mitchell as his old band manager, Freedom; Elijah Black plays the bass player, Righty; with Robert Tanos playing his on-screen brother and drummer, Red; the role of Zmoothie is played by Amy Landon; and the bad guys are portrayed by Tanya Lynne (Hex) and Christopher Elliott (Guitar Hunter). The role of the Man in Black is played by Jim Yorfido.
For more information about the film, or to watch the trailer, go to: www.cubecity.org
-- END --
For more information...
» The Legend of Jimi Lazer at the Manhattan Film Festival
» Watch the movie trailer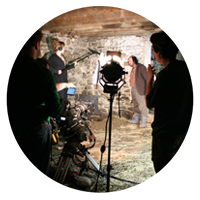 Blog Archives
To read our posts from 2008-2017,
check out A Moon Brothers Film blog