April 9, 2008
Home at Last
Press Release
Release Party for Documentary 'Home at Last'
ST. CATHARINES, ON (September 18, 2015) -- CubeCity, in collaboration with Curium Films, filmed a short documentary this past summer, called 'Home at Last, Home to Stay'. The project was part of a grant in connection with Start Me Up Niagara as part of their "Housing First" initiative.
The documentary will be shown at Start Me Up Niagara in St. Catharines, Ontario this coming Wednesday. Start Me Up is hosting a Video Release Party from 7:00 to 9:00 pm.
This project discusses "Housing First" which is a recovery-oriented approach to ending homelessness. The basic principle is that people are better able to move forward with their lives if they are first housed. 'Home at Last' follow five individuals who have benefited from this program.
Location: Start Me Up Niagara
17 Gale Crescent in downtown St. Catharines
Date: Wednesday, Sept 23rd at 7-9pm
For more information about "Housing First", go to Start Me Up Niagara.
-- END --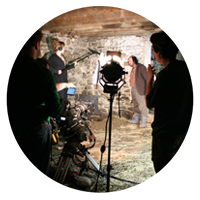 Blog Archives
To read our posts from 2008-2017,
check out A Moon Brothers Film blog