September 24, 2013
Haiti: A David and Goliath Story
Press Release
HAITI Documentary wins 2 awards at Film Festival
ST. CATHARINES, ON (September 24, 2013) -- 'HAITI: a David and Goliath Story' won two awards last weekend at CLIFFest, a film festival in Thamesville, Ontario. The awards were for "Best Documentary" and "Best Canadian Production".
This 26-minute documentary tells the story of Revenel Benoit and how he survived when he, still a boy, was kicked out on the streets by his mother when he turned away from voodoo.
Roberto Munoz and his filmmaking team traveled to Haiti with the Haiti Lutheran Mission Society in January 2013. "Our hope was to capture Haiti as it is."
"This is hopefully just the beginning of our work in Haiti," says Munoz, who is beginning to work on a series of educational documentaries for Haiti TV. The TV station is all part of the Revenel Benoit story featured in the documentary.
For more information about the film, or to watch the trailer, go to: www.cubecity.org
-- END --
» For more information...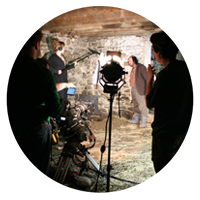 Blog Archives
To read our posts from 2008-2017,
check out A Moon Brothers Film blog