August 1, 2011
Under Jakob's Ladder Wins Awards
Press Release
Under Jakob's Ladder Wins Two Awards at the Manhattan Film Festival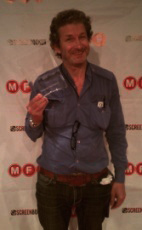 NEW YORK, NY (August 1, 2011) -- 'Under Jakob's Ladder' received two awards at last night's Award Ceremony at the 2011 Manhattan Film Festival. The first was for 'Best Actor' to Jeff Stewart in the role of Jakob. The second, for 'Best Film -- Period Piece'.
'Under Jakob's Ladder' has already garnered an award at the Redemptive Film Festival. Says Producer Roberto Munoz, "The film is a personal story; it tells about my great-grandfather, Jakob, imprisoned during Stalin's Soviet purges in the 1930s."
The movie tells the story of Jakob (played by Jeff Stewart) who is caught in the middle of what turns out to be a deadly game of chess. His opponent: the head of a Soviet prison also has a decade's old score to settle with Jakob. Best Actor Jeff Stewart heads an international cast ranging from Australia to Chile to Poland. "We're pleased with the many talented actors and crew that made this movie possible," says Munoz. "In some ways, it is no surprise that Jeff Stewart won for Best Actor. He's one of the most gifted actors on the scene today."
As for the second award -- 'Best Film, Period Piece'; 'Under Jakob's Ladder' was filmed using the state-of-the-art RED ONE camera, one of the newest in the business and which has already been used by many Hollywood features. Says Munoz, "Filming on RED was worth it. The movie turned out very well."
For more information about the film, or to watch the trailer, go to: http://www.cubecity.org
-- END --
For more information...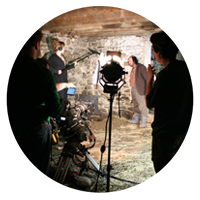 Blog Archives
To read our posts from 2008-2017,
check out A Moon Brothers Film blog