September 27, 2010
Redemptive Storyteller Award
Press Release
A Redemptive Storyteller Award for Under Jakob's Ladder
NEW YORK, NY (September 27, 2010) -- UNDER JAKOB'S LADDER, the newest independent feature film from CubeCity Entertainment, has won a Redemptive Storyteller Award for 2010 from the Redemptive Film Festival... An aptly named award, considering the nature of the movie.
"One of the themes of our film," says producer and screenwriter, Roberto Munoz, "relates to forgiveness and reconciliation. So the name of the award fits quite nicely!"
The movie is set during the time of Stalin's Soviet purges at the outset of the Second World War. It tells the true-life story of a man who must overcome his betrayal by a neighbor.
Living in the Soviet Union in 1938 was a time of general paranoia. Neighbors were denouncing neighbors. Men and women were imprisoned under false pretenses. Says Munoz, "Well, not to give away the ending, but the movie is about how the main character, Jakob, finds that the place you fear most -- in his case, prison -- can become the place that frees you."
The Soviets had dismissed Jakob Seel from his position as teacher in the village. He became frustrated and felt like a 'useless old man.' But ironically, inside that prison, he was to gain the purpose the State denied him.
Shot in the spring of 2009, the crew of UNDER JAKOB'S LADDER used the state-of-the-art RED ONE camera. "This camera is the newest in film technology. In fact, we only got the camera after a long wait, and shortly before principal photography began in April. The timing was just right. Not that we didn't have our scares." Munoz remembers the scratch in the camera lens half-way through the film shoot. "It seems so miraculous that the footage shot that day retains no evidence whatsoever of the damage."
According to Munoz, so many little miracles went into the making of this film that it's hard to recall them all. The locations for a period piece set in the 1930s just seemed to fall into place at just the right time. Not to mention getting British TV star Jeff Stewart to play the role of Jakob.
The award comes from the Redemptive Film Festival, located in Virginia Beach, VA. The award ceremony is scheduled to be held on Saturday, November 13, 2010. UNDER JAKOB'S LADDER was chosen by the festival jurors to receive a Redemptive Storyteller Award for 2010 as, in their words, "a tribute to the high quality of the film."
For more on UNDER JAKOB'S LADDER, including information on screenings and a movie's release date, go to www.cubecity.org or www.underjakobsladder.com
-- END --
For more information...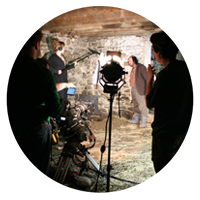 Blog Archives
To read our posts from 2008-2017,
check out A Moon Brothers Film blog