April 9, 2008
Grandmother Granddaughter
Press Release
Short Documentary Places in Top Three
'Grandmother Granddaughter', a documentary by Mann Munoz, chosen as the top finalist in the PBS filmmaking contest 'Watch Over Me'
NEW YORK, NY (April 9, 2008) "Forty-four million Americans are caring for aging relatives and friends. Are you one of them? If so, tell us your story."
In February 2008, that was the open call WGBH (the Boston PBS affiliate) put out for its filmmaking lab, 'Watch Over Me'. It was an open call for submissions for documentary filmmakers to create a 3-minute short on the topic of caring for the elderly.
So, armed with a camera, CubeCity's Mann Munoz answered that call and set about making a short documentary. Called Grandmother Granddaughter, it's a glimpse into living with and caring for someone with Parkinson's Disease.
Along with all the other submissions, Munoz's 3-minute documentary was posted at the filmmaking lab's website. Of those who watched and commented on 'Grandmother Granddaughter', one person wrote: "I want to believe in this story. If it isn't true, please don't tell me!"
Filmmaker Mann Munoz's response? "It is completely true. I guarantee it."
At the end of March, the 'Watch Over Me' Filmmaking Lab named 'Grandmother Granddaughter' one of the top three finalists. To view the three-minute documentary, go to the WGBH's 'Watch Over Me' webpage.
-- END --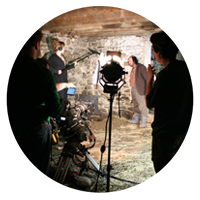 Blog Archives
To read our posts from 2008-2017,
check out A Moon Brothers Film blog